Clean Water, Food for Needy Children and The Bread of LIFE in Moi's Bridge Kenya
Most of the people here in Moi's Bridge harvest rain water from their old iron sheet roofed houses. This is their only source of water apart from water from the boreholes which are scarce and also dirty. This iron sheets are rusty and full of peeling off aluminium paint. Residents use this water for consumption despite water being unhealthy. We thank God for GMFC for donating sawyer water filters to our Moi's Bridge mission field. All the people that can't afford pure water for consumption have now a reason to smile, for we now have a solution for clean water for them. Thank you so much GMFC supporters.
When we spend enough time with our children and teach them all that is good, we become their role models as we follow and obey Jesus. 2 Timothy 3:14-15 "]But continue thou in the things which thou hast learned and hast been assured of, knowing of whom thou hast learned them; [15]And that from a child thou hast known the holy scriptures, which are able to make thee wise unto salvation through faith which is in Christ Jesus."
Sister Eunice (my wife) has an extra opportunity every evening of showing love to the poor children by cooking and serving them with food. Glory to God for HE is providing. Luke 14:12-14 "Then said he also to him that bade him, When thou makest a dinner or a supper, call not thy friends, nor thy brethren, neither thy kinsmen, nor thy rich neighbours; lest they also bid thee again, and a recompence be made thee. [13]But when thou makest a feast, call the poor, the maimed, the lame, the blind: [14]And thou shalt be blessed; for they cannot recompense thee: for thou shalt be recompensed at the resurrection of the just."
One of the children, Neddy Naftali leading others in singing for Jesus.
Working Faith fellowship Children in their Sunday fellowship answering Bible questions.
We disciple, encourage, avail and give other saved and trusted brethren chance to minister. This is good for the church of Christ as it's not a one man business. 1 Corinthians 14:26 [26]How is it then, brethren? when ye come together, every one of you hath a psalm, hath a doctrine, hath a tongue, hath a revelation, hath an interpretation. Let all things be done unto edifying." Romans 12:4-8 "For as we have many members in one body, and all members have not the same office: [5]So we, being many, are one body in Christ, and every one members one of another. [6]Having then gifts differing according to the grace that is given to us, whether prophecy, let us prophesy according to the proportion of faith; [7]Or ministry, let us wait on our ministering: or he that teacheth, on teaching; [8]Or he that exhorteth, on exhortation: he that giveth, let him do it with simplicity; he that ruleth, with diligence; he that sheweth mercy, with cheerfulness."
A piece of bread is an afterthought to most of the developed world. To the 3rd world who is starving, it's LIFE! No matter how and where they sit or stand, they love having something delicious to fill their little bellies after the fellowship. Most of them have only this opportunity at church to eat once until the next day as they get back to their hard lives due to hard economic situation experienced here in Kenya. This is a blessed way of showing them and touching their lives with God's love. The Lord remember and reward the donors GMFC and all that think of sharing each month with these little ones. You are such a blessing to so many here in a forgotten part of the world.
Outside our fellowship room. Thank you Lord for making this innocent souls afford a smile on their faces.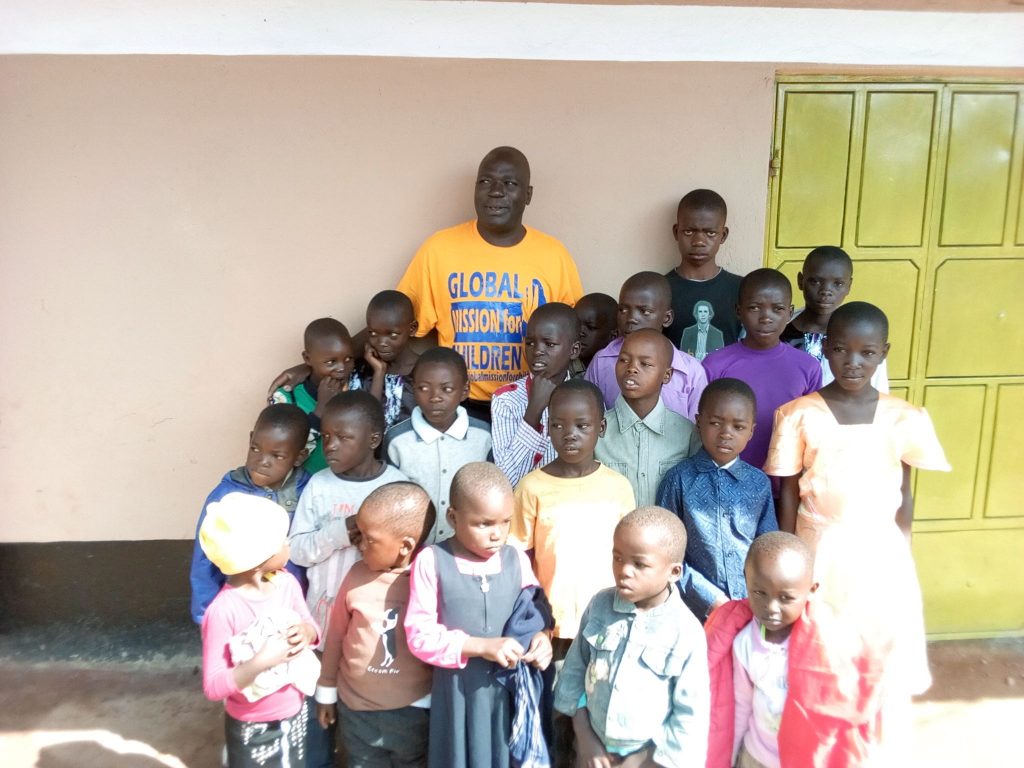 We had a very wonderful fellowship yesterday. Today, tomorrow and Wednesday is school visiting days in 3 different public schools where my 3 sons are day schooling. On Thursday and Friday I visit the orphans and then the widows on Saturday. On Tuesday next week I will traveling to Ahero for two days. – God bless all who truly serve Jesus. – Brother Haron